ΑΡΧΙΤΕΚΤΟΝΕΣ ΚΑΒΑΛΑΣ ΑΡΧΙΤΕΚΤΩΝ ΑΡΧΙΤΕΚΤΟΝΑΣ ΑΡΧΙΤΕΚΤΟΝΕΣ ΚΑΒΑΛΑ ΜΕΛΕΤΕΣ ΑΝΑΚΑΙΝΙΣΗ ΑΝΑΚΑΙΝΙΣΕΙΣ ΜΕΛΕΤΗ ΜΕΛΕΤΕΣ ΔΙΑΚΟΣΜΗΣΗ ΔΙΑΚΟΣΜΗΣΕΙΣ ΠΩΛΗΣΗ ΔΙΑΜΕΡΙΣΜΑΤΩΝ ΠΩΛΗΣΕΙΣ ΔΙΑΜΕΡΙΣΜΑΤΩΝ
About Us
The office was established in 2006. The two architects are engaged in the study of professional and residential spaces, decorating and renovating interior and exterior spaces, and the construction of residential buildings with the foundation of the construction company "Tsiampousi I. – G.C.Michaelides". Coming both, from families of engineers and contractors with extensive experience in the design and construction of buildings, they have worked at two of the biggest technical offices in the city. Continuing the family practice, their work is based onto respect to the client and the insistence on quality.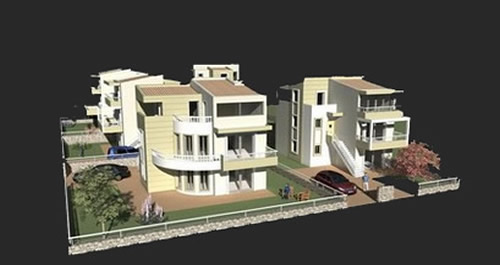 George Michaelides, architect
He was born in Kavala. He graduated from New York Institute of Technology, where he was granted the Gold Certificate for Architectural Design in recognition of his demonstrated excellence throughout his college years. Since 1998 he designs, supervises and constructs privately owned buildings. In 1999 he was awarded 4th place in the Greek Architectural Competition conducted by the Prefecture of Evros under the title "administrative building complex of Alexandroupolis", with an estimated budget of 1 billion drachmas.
Ioanna Tsiampousi-Michaelides, architect
She was born in Kavala. She graduated from the Polytechnic School of Aristotle University of Thessaloniki.  She also attended for a semester the Έcole Nationale Supériore d' Architecture de Paris La Villette, where she studied the ergonomics and functionality of the interior fittings of urban housing. Since 2003 she is working on architectural design, decoration, renovation and supervision of private construction.
ΑΡΧΙΤΕΚΤΟΝΕΣ ΚΑΒΑΛΑΣ ΑΡΧΙΤΕΚΤΩΝ ΑΡΧΙΤΕΚΤΟΝΑΣ ΑΡΧΙΤΕΚΤΟΝΕΣ ΚΑΒΑΛΑ ΜΕΛΕΤΕΣ ΑΝΑΚΑΙΝΙΣΗ ΑΝΑΚΑΙΝΙΣΕΙΣ ΜΕΛΕΤΗ ΜΕΛΕΤΕΣ ΔΙΑΚΟΣΜΗΣΗ ΔΙΑΚΟΣΜΗΣΕΙΣ ΠΩΛΗΣΗ ΔΙΑΜΕΡΙΣΜΑΤΩΝ
Welcome
Welcome in our site and thank you in advance for your time..  By clicking in our photos you can browse in our built project in the region of NothernGreece, while by reading our text you can be informed about:
Who we are.
Our architectural approach in creating space.
The cost of a Building Permit.
Construction of a single house. What are the phases and cost by using case studies with specific home standards.
Where we are located.
Mechailidis George
Tsiampousi Ioanna
Architects
Venizelou 30 65403 Kavala
+30 2510 23.30.89
+30 6944 61.42.14
+30 6942 06.52.88
viema2@otenet.gr
iotsia1@otenet.gr
© 1999- 2023 M&T architects, G. Mechailidis - Ι. Tsiampousi